There might be a lot of MAC lovers around.... though MS disappointed all its fans with VISTA here it is back with a bang with an all new operating system WINDOWS 7.
There are many things that one really needs to look at when it comes to WIN 7.

I would like to give a brief view about this wonderful OS

The main thing that really drove my attention towards W7 were some small but extraordinary ideas that they have come up with. The punch line itself punches MAC badly saying I AM A PC giving a fitting reply to 13 year old tagline of MAC reading I AM MAC. Even another important matter to be seen here is that its for the first time microsost in its ads concentrated more on the features of the OS rather than their traditional glamrous one. Giving an impression that the features added in OS are as per user demands and requirements, WIN7 as come into the market. So frnds we can say that windows 7 is here to stay.

All developers of this OS do agree proudly that WIN 7 is the best ever software designed by MS till date if it can break the highest run record of XP is just to be seen in future.

Windows se7en gets its name because of the Kernel version used in it. Moreover the biggest disaster in MS was with the launch of both ME and Vista which were the OS without any number in its name and hence this time MS was sure that their next OS would carry a number in its name.

Let me not again list all the features that almost all other blogs have already done. But let me just give a brief note about them.

The traditional old stale look of notepad has been completely changed in 7 and it almost now resembles a 2003 windows word.

The WINDOWS MOVIE CENTER is all transformed and now the WINDOWS MEDIA EDITION OS has just been embedded in WIN7 making it an effective OS for media lovers too.

It comes up with a beautiful, stylish look and makes working a fun.

Other worth mentioning feature would be that of a quick boot up time. Even on a virtual machine, the OS tskes just 20 mins for installation and is very miser with its boot space consumption. Even the time taken to start WINDOWS 7 is very less in comparision with any OS in the market.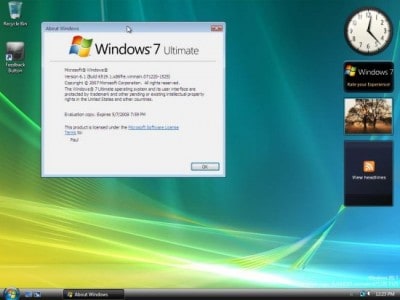 A number of capabilities and certain programs that were a part of Windows Vista are no longer present or have been changed, resulting in the removal of certain functionality. Some notable Windows Vista features and components have been replaced or removed in Windows 7, including the classic Start Menu user interface, Windows Ultimate Extras, InkBall, and Windows Calendar. Four applications bundled with Windows Vista — Windows Photo Gallery, Windows Movie Maker, Windows Calendar and Windows Mail — are not included with Windows 7, but are instead available for free in a separate package called Windows Live Essentials.

The more you work with it the more you love it for sure.